with Customers
Supporting Daily Life Behind the Scenes: TAIYO KOKI's Technologies in the Background of Common Everyday Items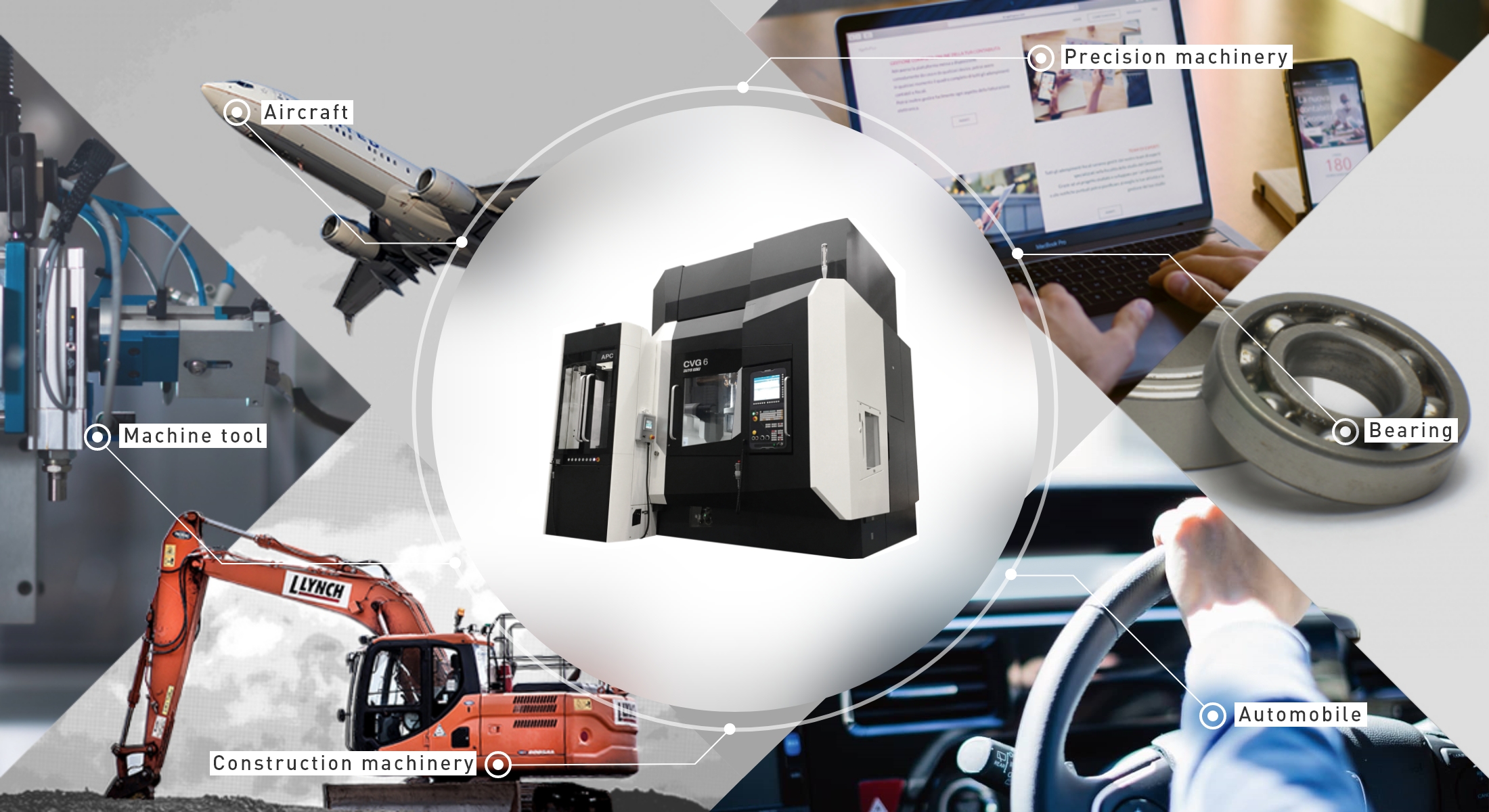 While it is highly unlikely that we would see a grinding machine in everyday life, our daily life is full of items made with a grinding machine or items built with parts made with a grinding machine; cars on the street, airplanes flying in the sky, wind power devices that catch the wind, to name a few. Furthermore, when it comes to items that are made with machines built of parts manufactured by grinding machines, like mobile phones and electric appliances, we see even more of them in our daily lives. Although you do not see the logo of TAIYO KOKI in everyday life, our technologies are actually supporting daily life in many ways.
Automobiles, Smartphones, Robots, and Much More: TAIYO KOKI Supports Everyday Life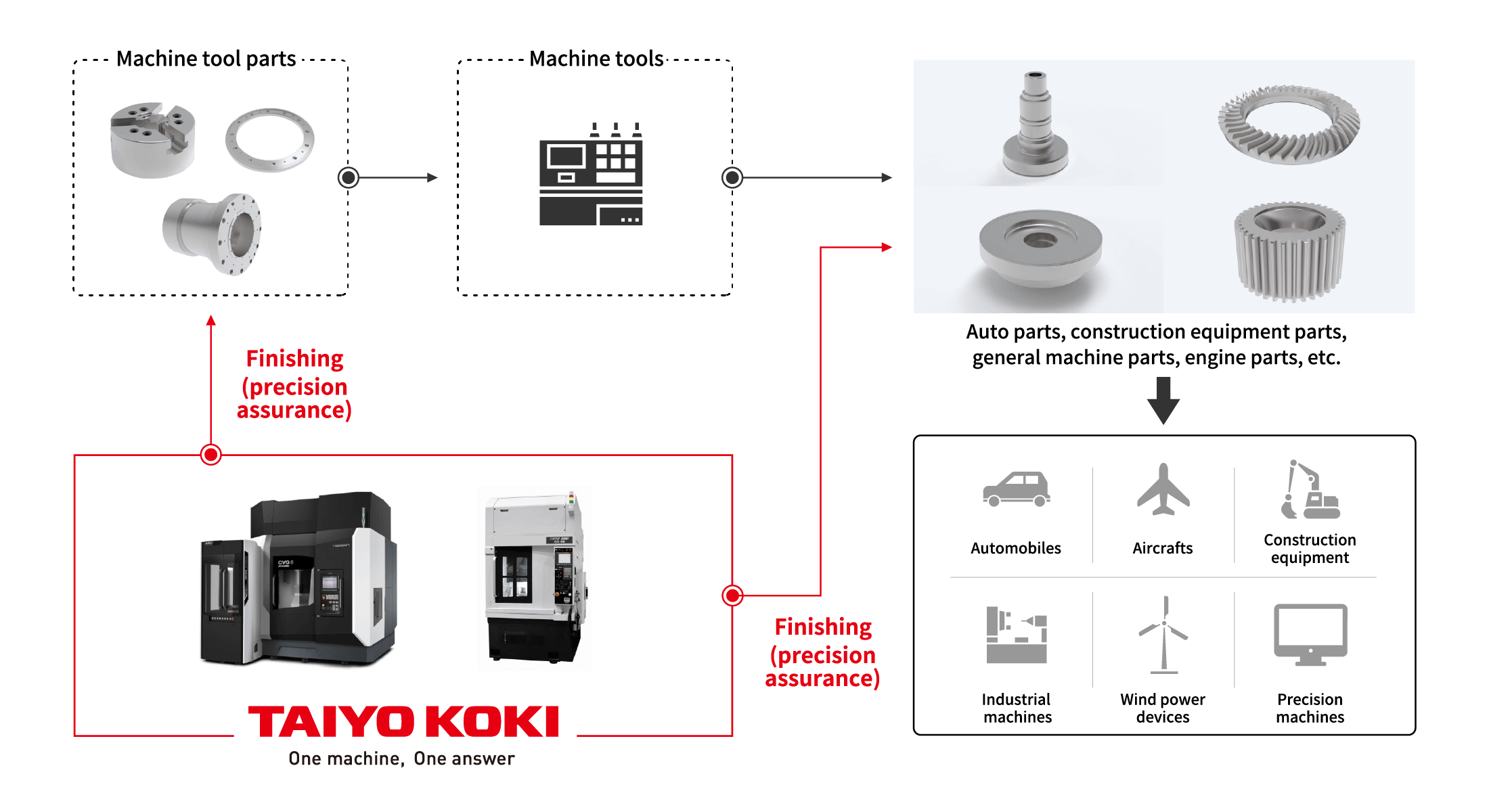 TAIYO KOKI grinding machines support manufacturing in a wide range of industries including those that produce automobiles, aircrafts, construction equipment, industrial machines, machine tools, wind power devices, semiconductors, and robots.
A classic example is the manufacturing process of an automobile. First of all, we deliver grinding machines to the automotive industry for machining transmission and engine parts. We also deliver a diverse range of grinding machines to the machine tool industry for machining the approximately 30,000 parts needed to build one automobile. We are deeply, though indirectly, involved in the manufacturing of automobiles through these two routes. We are assuming that we will be able to build new relationships when electric cars become mainstream in the future as new needs will arise for, for example, improving quietness and making smaller motors.
Our grinding machines are also used in two industries that are attracting attention as growing industries: the semiconductor industry and the robotics industry. Grinding machines are used in the production process of semiconductors, which serve to control devices and are used in electronic products like smartphones and computers. In terms of the robotics industry, we mainly ship to manufacturers in the industrial robotics industry. Grinding machines are used to machine the robot arm "joint" parts that are required for increasing the arm's moving range so that it can move like a human arm with a high degree of freedom.
As described so far, although we do not actually see grinding machines at work, they indirectly but widely support everyday life, making our lives more convenient and rich.
Supporting the World's Leading Manufacturers and Aiming at Increasing the Proportion of Overseas Sales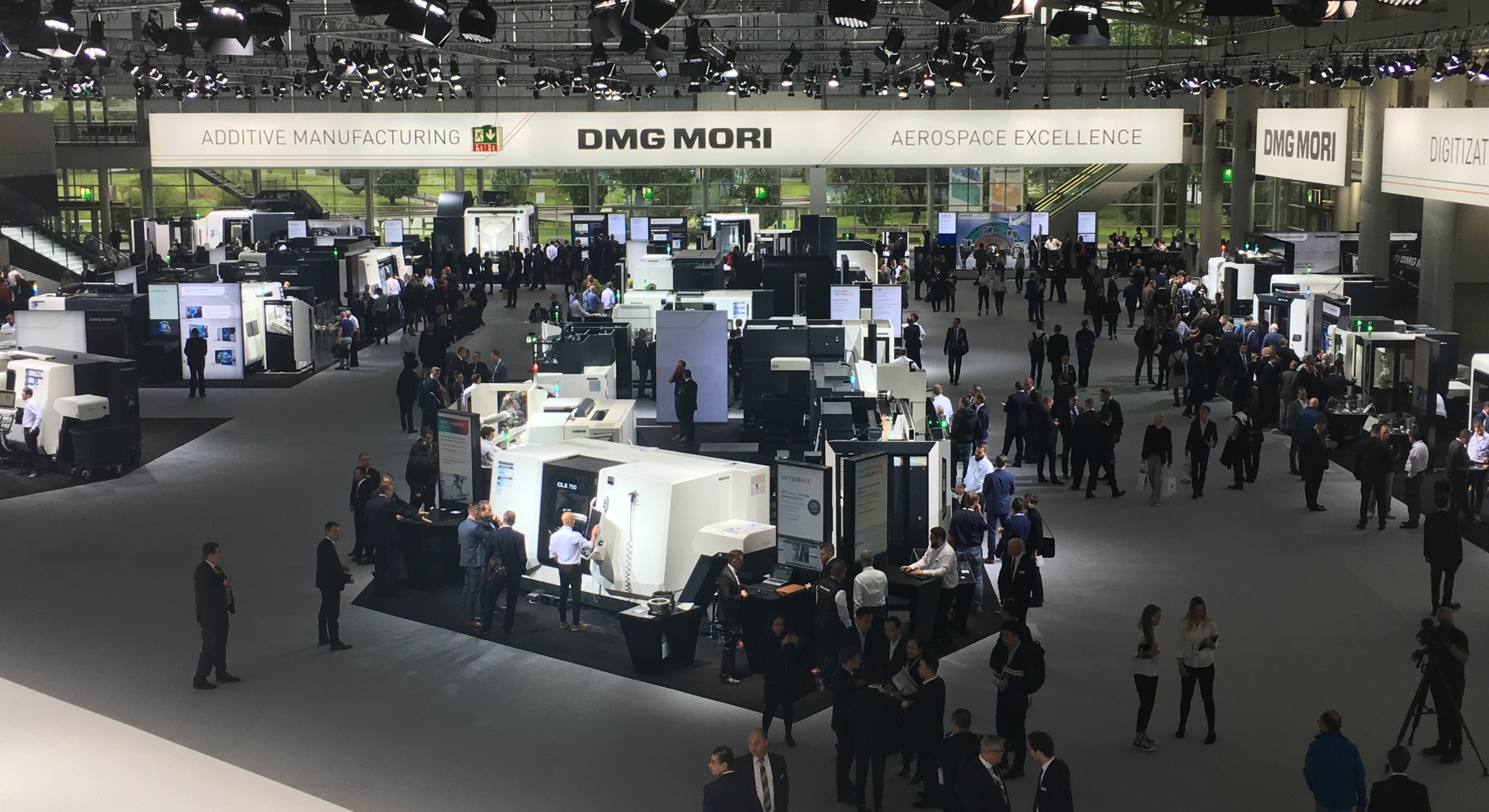 The EMO Hannover 2019, a trade show held in Germany.
TAIYO KOKI participated in the trade show as a member of the DMG MORI group.
Let us turn to the world. The current proportion of our overseas sales is approximately 30%. We are supplying grinding machines worldwide to aircraft manufacturers, large bearing manufacturers, and other manufacturers in the machine tool industry and the automotive industry. In terms of aircrafts, we provide vertical grinding machines for machining jet engine parts to leading manufacturers in America and the U.K. One of those manufacturers have so much trust in us that they have ordered a total of eight large machines at a pace of one per year. The fact that they recognize the technology of a company more than its publicity or size has boosted our confidence and we see the potential in expanding globally. As the automotive industry and the machine tool industry are thriving in Europe, we are especially interested in this region since it already has an environment for us to roll out the technologies and know-how we have developed in Japan.
Having said that, we are still hardly known outside Japan and we have hardly entered any foreign market. We are currently cultivating new markets by strengthening our representative offices in Germany, the United States, and China and increasing brand awareness by actively participating in international trade shows. By collaborating with our group company DMG MORI, which has built a global sales & service network, we will aim at increasing the proportion of our overseas sales to 50%.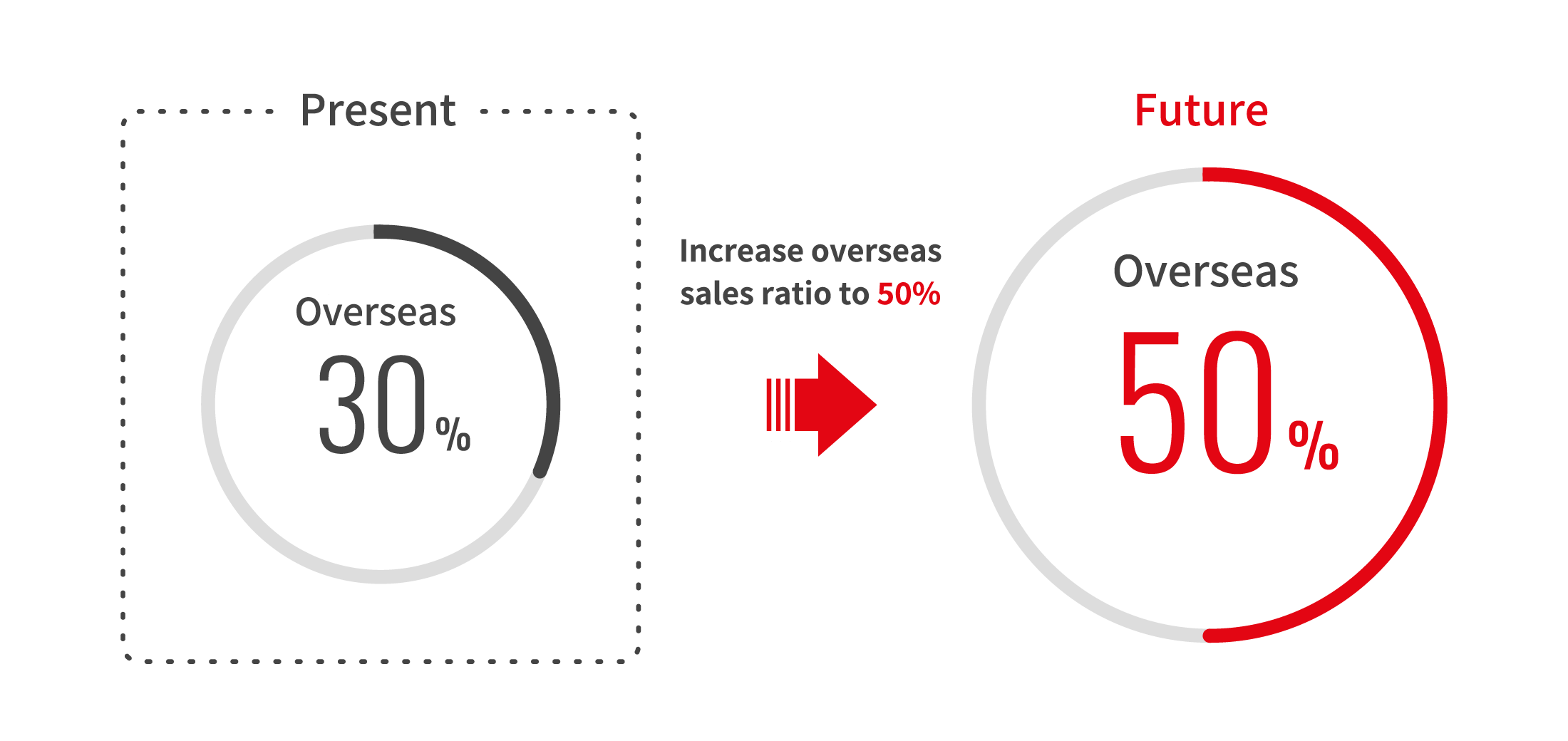 Solving Social Problems and Moving to the Future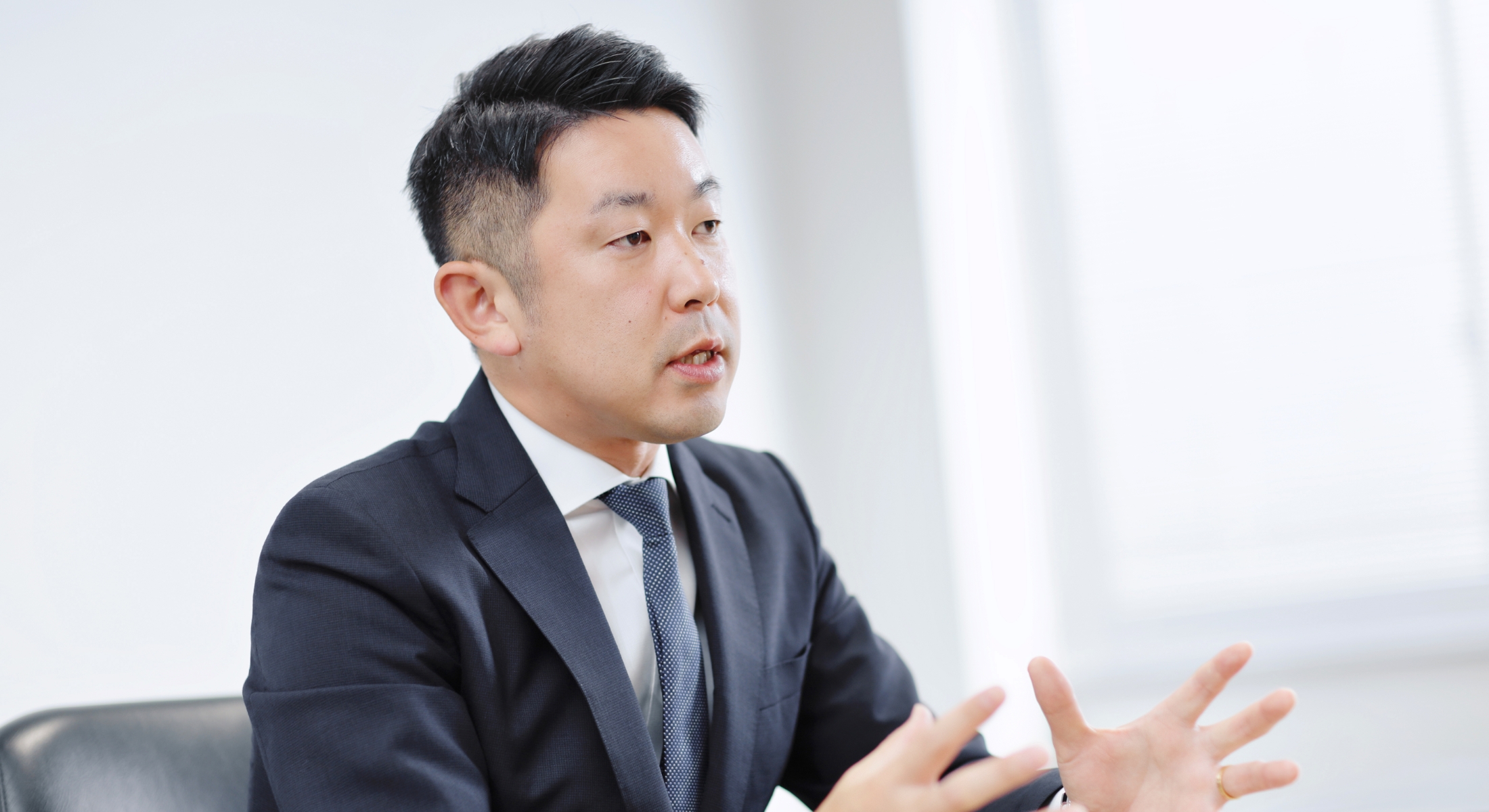 Efforts to promote work-life balance combined with labor shortage against the backdrop of Japan's population decline, which is due to declining birth rates and aging population, has had various effects on the working environment. Production sites must implement automation and energy/labor-saving measures urgently and the wave is reaching related industries as well. While we are expecting an increase in orders from the robotics industry, we are also planning to actively propose the adoption of grinding machines with automated equipment to our customers of the manufacturing industry. We hope to provide, so to speak, problem-solving support by proposing smarter grinding machines.
In terms of large machines, we will improve productivity and on-site work performance by offering a series featuring an automatic pallet exchange system or a series featuring an optional system for automatically positioning workpieces. As for compact machines, we will contribute to saving labor by developing an automation machine that, for example, is equipped with a robot for supplying workpieces from the previous process and discharging workpieces to the next process, and adding this machine to a vertical grinding machine, which is small in width. In addition, we offer horizontal grinding machines for machining long workpieces with optional features for automation. In order to make proposals that match the specific environment and issues of each and every customer regardless of their size, we will enhance our product line and increase optional features. As a company that contributes to society, we will continue to make every effort to support production sites and grow with our customers.
Profile
Tsuyoshi Watanabe, President
April 2001

Joins TAIYO KOKI

April 2012

Appointed as Overseas Sales Manager

June 2014

Appointed as Overseas Sales Manager & Director

Oct. 2017

Appointed as Overseas Sales Manager & Managing Director

July 2019

Appointed as President & Representative Director (current position)
* The information and job titles above are accurate as of Sep. 2020.
Contact Us
For more information,
please send an inquiry here.